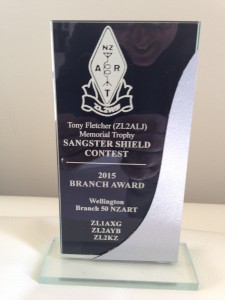 Wellington Branch 50 NZART (WARC Inc) won the inaugural trophy for the most active branch in the Sangster Shield Contest.
This award, in memory of Tony Fletcher ZL2ALJ – a long-time Branch 50 NZART member, was presented to the Chair by the Sangster Shield contest coordinator, Glenn Kingston ZL2KZ at the Wellington Branch meeting on 18 November 2015.
WARC Inc thanks Tony's wife for the gift that enabled the trophy fund to be established.
While Wellington Branch won the trophy this year, it is to be hoped that other branches will encourage their members to participate in the NZART Sangster Shield contest held each May.  The contest involves contacts over two evenings in early winter on QRP CW.