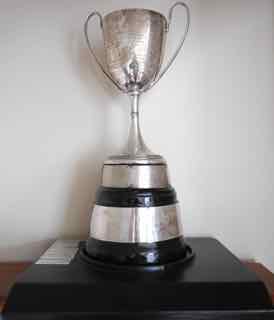 Since 1930, the Blackwood Cup has been awarded by the Wellington Amateur Radio Club to a deserving member. In recent years, the cup has been awarded to the winner of a competition for homebrew equipment. This year's Blackwood Cup run-off will be held at The Collective Hub in Johnsonville from 1pm – 3pm on 1 October 2023. All are welcome. Tea, coffee and biscuits will be available after the competition winner is announced.
Bring out your homebrew construction project to have a go at winning the Blackwood Cup. This can be any electronic or radio related project you have made over the last 12 months. You have several weeks still to put something together. You will be required to give a brief presentation of no more than 10 minutes about your project. Kit projects also qualify. Voting is by secret ballot of all club members attending the meeting.
George ZL2AG is the current holder of the cup.