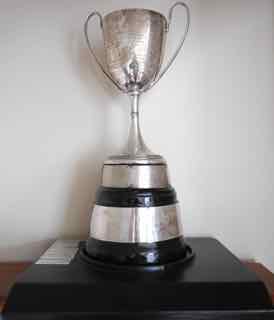 The Blackwood Cup is presented annually to a member of the Branch 50  (Wellington) NZART.
The Blackwood Cup was first presented in 1930 and is now perhaps the only physical link with the earliest days of our club. It has been awarded for technical excellence, operating brilliance and for all kinds of other reasons, during its long history.  The late Mr Blackwood donated and named the cup.  Mr Blackwood was a member of the Club in its early years, but he never gained an amateur licence.
In recent years the focus of the Blackwood Cup has returned to home brew construction. At the October meeting, members are invited to provide a brief presentation, of no more than 10 minutes duration, on a home brew project that they have worked on in the previous 12 months.  Typically around three to four entries are received.
The following table indicates the winners of the Blackwood Cup over the years:
Year
Winner
Callsign
Project
2022
R G Newlands
ZL2AG
VHF Super-regenerative Receiver
2021
J P Moriarty
ZL2JPM
QRP Magnetic Loop & Autotuner
2020
J P Moriarty
ZL2JPM
QRP Antenna Tuner modules
2019
R G Newlands
ZL2AG
Artificial ground system
2018
D McNeill
ZL2AOV
uBITx Txcvr & mods
2017
M H Woods
ZL1AXG
BITX40 Txcvr mods
2016
D McNeill
ZL2AOV
QRP SSB Txcvr
2015
J Andrews
ZL2HD
Arduino and GPS driven Real Time Clock
2014
M H Woods
ZL1AXG
Four Square Controller
2013
R G Newlands
ZL2AG
Antique Receiver
2012
Ted Linney
ZL2TB
Antenna Tuner
2011
R G Newlands
ZL2AG
TRF Receiver
2010
J Andrews
ZL2HD
PIC applications
2009
A B (Tony) Fletcher
ZL2ALJ
Recycles 80M QRP TX
2008
J Andrews
ZL2HD
Electronics projects for children
2008
R.B Vernall
ZL2CA
Antenna 130KHz-54MHz
2007
C Wassilief
ZL2AFP
Digital TV and Communications
2006
R G Stewart
ZL2AMI
RTTY Contesting
2005
A B (Tony) Fletcher
ZL2ALJ
Ham Radio History
2004
A C Corney and R B Vernal
ZM2E
LF World Records
2003
C Wassilief
ZL2AFP
NBTV Development
2002
G W R Healey & S J Morris
ZL2ALZ and ZL2AMM
Sterling service
2001
A C Corney &
R B Vernall
ZL6QH
1st Amateur LF Transmission
2000
B D Miller
ZL1AZE
Leader of National Field Day winning team 1998, 1999 and 2000
1999
R L Sutton
ZL2AOH
Prepared speech
1998
W R Hamer
ZL2CD
Home brew ATU
1997
R L Sutton
ZL2AOH
Prepared speech
1996
J F Gabites
ZL2AQ
Impromptu talk
1995
R B Vernall
ZL2CA
Digital filter
1994
R G Newlands
ZL2THQ
DC Power Load
1993
R B Vernall
ZL2CA
Test equipment
1992
R B Vernall (1st equal)
ZL2CA
HF Amplifier
1992
A C Corney (1st equal)
ZL2BBJ
LF Loops
1991
R E Wills
ZL2TT
Talk on QSL Cards
1990
A C Corney
ZL2BBJ
Signal Generator
1989
R G Newlands
ZL2THQ
Talk on WWII equipment
1988
T C King
ZL2AKW
Short talk
1987
J F Gabites
ZL2AQ
Favourite Antenna
1986
P W Blakeley
ZL2KA
Talk on QSL Cards
1985
W J Chisholm
ZL2TSF
Long serving committee member
1984
R Motion
ZL2LX
Best lecture
1983
T C King
ZL2AKW
Home construction
1982
S R Carran
ZL2SR
Power Supply
1981
R G Newlands
ZL2THQ
Antique microphone talk
1980
M J B Kerr
ZL2BCW
Old style transmitter
1975
M J B Kerr
ZL2BCW
CW keyboard and Transmitter
1974
D Taylor
ZL2AKS
Communications Receiver
1973
W R Hamer
ZL2CD
SSB Transmitter
1972
B M Durdle
ZL2TLB
Communications Receiver
1971
M King
ZL2AVE
Digital Frequency Dial
1970
D M Roylands
ZL2AVP
World Time Clock
1969
D M Roylands
ZL2AVP
Power Supply
1968
A V Dewsnap
ZL2THP
Transistor Competition
1963
W S Strong
ZL2ATE
Transmitter Hunt
1962
J R Sewell
ZL2ASO
Transmitter Hunt
1961
J R Sewell
ZL2ASO
Transmitter Hunt
1960
R G Blagdon
ZL2OM
Transmitter Hunt
1954
R G Chatfield
ZL2AV
Test Equipment
1953
K A Bargh
ZL2ACV
Grid Dip Oscillator
1952
G W R Healey
ZL2ALZ
Station Competition
1952
R G Chatfield
ZL2AV
Receiver
1951
Fred Cropley
ZL2AAH
Electronic key
1950
R Cassey
ZL2IQ
Wave meter
1950
R Cassey
ZL2IQ
Break In Article
1949
R Sutherland
ZL2AIW
CW Contest
1949
T G Taylor
ZL2GP
QSL Card
1941
R A Carr
ZL2DL
Tape recorder
1940
B E Jackson
ZL2FJ
Radio talk
1939
S L Lawson
ZL2MC
Portable Xmtr & Rcvr
1938
F B Lough
ZL2OG
Radio talk
1937
A J Cunniffe
ZL2TW
Radio talk
1935
W R Schrodoski
ZL2RS
Frequency meter
1934
J McLaughlin
ZL2NO
Code sending
1934
C G Liddell
ZL2BI
Overload Relay
1933
W G Mace
ZL2NY
Frequency Meter
1932
H C McCabe
ZL2HA
QSL Card Design
1932
H C McCabe
ZL2HA
QRP Copying Test
1931
F A McNeill
ZL2CD
Emergency Transmitter
1930
S H Perry
ZL2BC
QRP Test