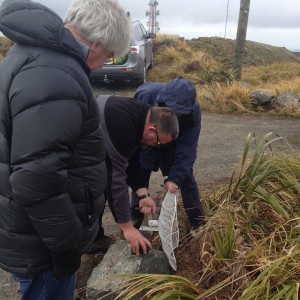 James ZL2ET, Doug ZL2AOV, Ted Zl2TB and Mike ZL1AXG were up on Mt Climie on Saturday 26 September at the invitation of Branch 63.   We installed a temporary 20dBi Airgrid M2 at the site pointing towards Colonial Knob.
We were somewhat surprised to find that the radio lock in (at least intermittently) with the tell-tale red light showing on the Airgrid.  
However, we had issues in connecting a PC at the "shack" end. The cold and sleet meant we didn't pursue this any further when we had trouble removing the Airgrid from its extension shaft.
On arrival back in Wellington it became clear that the Airgrid was actually connecting intermittently with the Ngaio node.  This had not been anticipated or we would have aimed the dish in a slightly different direction!
It is hoped to install an Airgrid soon at Colonial Knob to connect more reliably with Mt Climie.